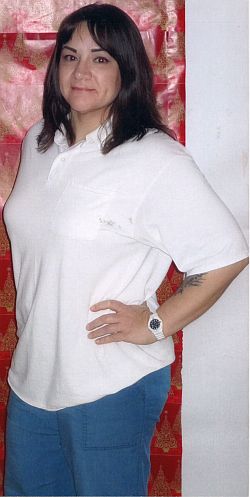 Return to Previous Page
Vital Statistics
| | |
| --- | --- |
| Age: | 46 |
| Hair: | Brown |
| Eyes: | Brown |
| Height: | 5'3" |
| Weight: | 172 |
| Marital Status: | Divorced |
| Kids: | 5 |
| Outdate: | 10-5-25 |
| Race: | White |
A little about me: At home, you can usually find me in the kitchen or reading. I always have music of some sort playing, although I'm more likely to dance with the vacuum than in public. I can be a little restless. I like to have something to do or somewhere to go, but I also need some downtime to recharge. I enjoy sports, football and baseball are my favorites. I'd love to catch some game, your team or mine. I'm a bit of a nerd. I love learning, and I don't mind getting my hands dirty, so teach me something new. I like to work together on things; no project is too big.
When it comes to men, a man who reads is my type of man. I like someone funny, confident, and not afraid to take charge. I don't want to guess about how you feel. Let me know you want me, appreciate me, help me with things now and again, and be affectionate. It's a lot to ask I know, but I deserve it. I'm pretty awesome, and you'll get it back plus some.
I believe life should be lived, the world explored and embraced with childlike fascination. I never want to be too old to laugh or have fun. Let's enjoy today together and see what happens.
You can write to me at:
Sarah Myers Y26773
P.O. Box 1000
Lincoln, IL 62656