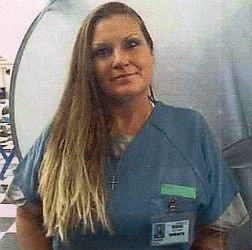 Return to Previous Page
Vital Statistics
| | |
| --- | --- |
| Age: | 42 |
| Hair: | Blond |
| Eyes: | Blue |
| Height: | 5'9" |
| Weight: | 200 |
| Marital Status: | Single |
| Kids: | 6 |
| Race: | White |
My name is Joanie Rager. I'm 42 but stopped aging at 35. I figured that was a great year.

All I know is I have a ton of life left in me. I'm considered a fun, loving, and caring person. I love excitement in my life. I don't like to fight or argue. There's nothing I wouldn't try. I want to experience everything life has to offer me. That's why I'm signing up for this - to meet new people and not waste a second in my life.
Well, I like to be outdoors, camping, fishing, and dirt bikes. At the same time, I equally enjoy the beach or just a stroll around the block. I enjoy cooking, watching movies, sports, or whatever you're down to do. My sign is a Virgo and it fits me to a T. I can work on a vehicle and turn heads in a club. I'm a go-getter.
I'm here on drug trafficking charges. I have some time left but I also have an appeal in so with God's grace maybe it will be sooner than later.
Just think, you stopped on my picture, my bio, so what's stopping you from writing. Hurry up, hit me up. Remember to write like we're already friends so they don't deny you.
You can also write to me on JPay.
Can't wait to meet you.
You can write to me at:
Joanie Rager D17801
GCF
P.O. Box 23608
Tampa, FL 33623