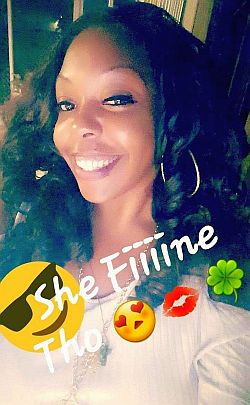 Return to Previous Page
Vital Statistics
| | |
| --- | --- |
| Age: | 33 |
| Hair: | Black |
| Eyes: | Brown |
| Height: | 5'8" |
| Weight: | 180 |
| Kids: | 3 |
| Outdate: | 8-24 |
| Race: | Black |
Another inmate provided a photo and stated that it was for herself, paying for it through Paypal. It was added to the Paper Dolls page that was requested (we still have the email from Angelina). Later on she notified Paypal that the photo had not been added to Jasmine's Paper Dolls page and she got Paypal to give her the funds back. We are not sure how Jasmine and Angelina are connected in defrauding Paper Dolls, so we advise caution if you choose to write to Jasmine due to this fraud.
I'm a woman with a positive, joyous, cheerful, good-natured personality with a blunt yet humble attitude. I know how to enjoy life and not take myself too seriously. I'm not perfect, far from. But I am working on it. Hopefully I can find a positive, selfless, loyal friend to help me along the way. Just to let you know, I play for keeps. Hope to hear from you.
You can also contact me through GTL's GettingOut.com.
You can write to me at:
Jasmine Rachal WF9215
P.O. Box 1508
C.C.W.F.
Chowchilla, CA 93610-1508