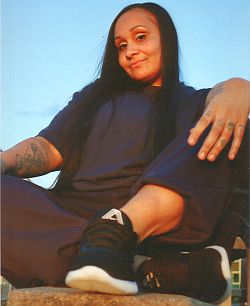 Return to Previous Page
Vital Statistics
| | |
| --- | --- |
| Age: | 32 |
| Hair: | Black |
| Eyes: | Brown |
| Height: | 5'8" |
| Weight: | 170 |
| Marital Status: | Single |
| Kids: | 2 |
| Outdate: | 9-23 |
| Race: | Multi-racial |
I'm Brittany and I'm full of life. I have a huge heart and a giving soul. I've been told I have a very contagious laugh and smile. I'm shy at first, but when I feel comfortable to open up we can talk about anything. I'm easy to talk to and I feel like I give good advice.
I'm on the last year of my sentence, downhill slide, and I can't wait to get out into the world. I would like to meet positive people for support, no pressure or expectations.
I'm ready for the adventure.
You can write to me at:
Brittany Rook 18832116
CCCF
24499 SW Grahams Ferry Road
Wilsonville, OR 97070