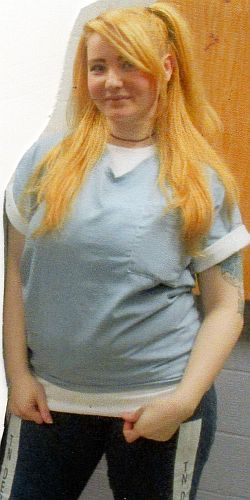 Return to Previous Page
Vital Statistics
| | |
| --- | --- |
| Age: | 30 |
| Hair: | Brunette |
| Eyes: | Blue |
| Height: | 5'3" |
| Weight: | 146 |
| Marital Status: | Single |
| Kids: | 3 |
| Race: | White |
Hello there. If you have stumbled upon my profile, I guess you might want to know a little about me, and what I am looking for. I love to draw, dance, sing, crochet, and I'm always looking to learn something new, which currently I'm trying to learn German, which this Fraulein is struggling with.
Since my incarceration, I've gotten my GED, my hours for my cosmetology license, and am now currently enrolled in a college course. I have taken other classes as well and receive multiple certificates for those.
When it comes to what I'm looking for, I'm looking for the ones who still get joy from something in their mailbox that isn't a bill or a newspaper, who love terrible puns, bad dad jokes, and just enjoy being in the moment. I'm looking for genuine friendships, and assistance in mental, emotional, and financial security.
I hope you hear from you soon, my new friend. I do have the option of e-mail through JPay.
You can write to me at:
Britanny Wiest 574899
480 Green Chapel Road
Henning, TN 38041