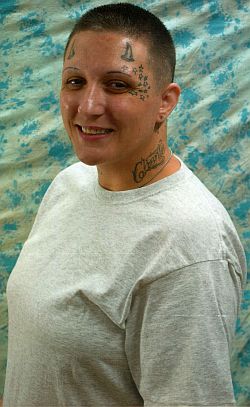 Return to Previous Page
Vital Statistics
| | |
| --- | --- |
| Age: | 40 |
| Hair: | Brown |
| Eyes: | Brown |
| Height: | 5'5" |
| Weight: | 175 |
| Marital Status: | Widow |
| Kids: | 5 |
| Race: | Chicano/White/Hispanic |
I am a 40 year old mother and grandmother who loves to make people laugh and smile. I hve been through a lot in my life, but it has make me stronger and more appreciative about life and what I have.
I love sports, tattoos, bugs, and weird stuff. I've been married and I am a widow. The things people are grossed out by, I love! Also, the things that people are scared of or afraid of, I enjoy and love, I consider myself "weird", but it's okay. A lot of people want a "normal" friend, but define "normal". Normal peole to me are weird, and I'm actually considered "normal" because I'm weird, if that makes sense.
If you're interested in writing a funny, adorable, outgoing, loyal, honest, loving, respectful person, then contact me. All letters have to be written in blue or black ink, written on white paper, no stickers, no cards, no glitter, no perfumes, no marker, no crayons, white envelope, return address has to be hand written. All these rules are per my federal prison. Pictures are allowed.
Guys, I can't wait to hear from you!! I'll make a great penpal!!
You can write to me at:
Amber Arrellano 31334047
P.O. Box 1731
FCI - Waseca
Waseca, MN 56093