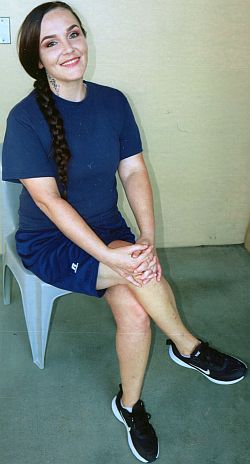 Return to Previous Page
Vital Statistics
| | |
| --- | --- |
| Age: | 31 |
| Hair: | Brown |
| Eyes: | Hazel |
| Height: | 5'6" |
| Weight: | 135 |
| Marital Status: | Single |
| Kids: | 0 |
| Outdate: | 9-9-26 |
| Race: | White |
We fall in love with the little things somebody loves about the world, like music, raining days, or peanut butter sandwiches - and it doesn't matter what they are, it's just that they love them and that makes us happy.
My name is Alicia and I'm a hopeless romantic. I'm the kind of person you meet once and never forget. I'm a beautiful brunette bombshell looking to create a special bond with a special someone... are you that someone? I'm a bright light in a dark place and although life has thrown me a few curveballs, I never let that get me down.
I'm down to earth, outgoing, have a big heart, and am full of life. I love going on adventures with my Blue Nose, learning new things, music, impromptu road trips, cooking, fitness, and photography.
I'm looking for someone who's stable, kind, open minded, laid back, and non-judgmental to share this journey with me. I would love to bring a smile to your lips and be the reason behind your laughter.
I don't need to matter to everyone, but I do need to matter to someone. Take a chance on me, I'll be waiting.
Feel free to include your email and phone number for a more efficient way to communicate. I look forward to meeting you! XO
You can write to me at:
Alicia Gunn 19077651
CCCF
24499 SW Grahams Ferry Road
Wilsonville, OR 97070