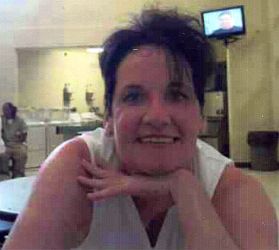 Return to Previous Page
Vital Statistics
| | |
| --- | --- |
| Age: | 60 |
| Hair: | Auburn |
| Eyes: | Green |
| Height: | 5'6" |
| Weight: | 130 |
| Marital Status: | Widow |
| # of children: | 4 grown |
| Projected Outdate: | 4-21 |
| Race: | White |
Hello, Gentlemen
Allow me to introduce myself: I'm Tina Marie. I am 60 years old, have intoxicating hazel eyes, 5'6", 130 lbs., and hair to my shoulders with streaks of grey shining through. My main pic is a few years old - I still look the same, just decided to lay off the dye and see I look "au naturel".

I'm not perfect, I've been in prison for a while (soon to be released) and I have nothing but love, respect, and the rest of my life to share with you. I'm not seeking a passing fancy, I want it all - "put a ring on it".
I've been here since 1989, not much more time left. I'm seeking a very unique man that says what he means and does what he says. No false promises, lies, or misleading with anything. I prefer 60+ gentlemen who is mentally, emotionally, and, yes, financially capable, able to allow us to live comfortably and I also want a man that will "want to make sure" I'm comfortable in here,. I will ask no more from you than I am willing to give back. I say what I mean and do what I say. This is not a game to me, gentlemen. I know what I want when I walk out these gates. I also know my "unique man" is out there wanting the same thing.
I will be anxiously awaiting all replies. Please use white paper and white envelope only. No address labels. Must write your full name and address on the envelope. You can email me through JPay.com. Send your phone number, too.
You can write to me at:
Tina Powell 003646
K.C.I.W.
P.O. Box 337
Pewee Valley, KY 40056