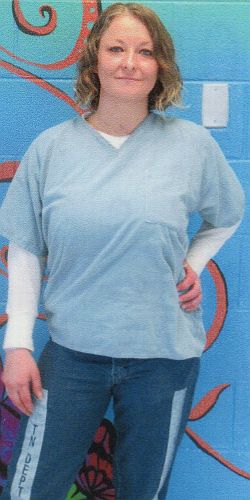 Return to Previous Page
Vital Statistics
| | |
| --- | --- |
| Age: | 38 |
| Hair: | Blonde |
| Eyes: | Blue |
| Height: | 5'3" |
| Weight: | 130 |
| Marital Status: | Single |
| # of children: | 1 |
| Race: | White |
Hello, my name is Tiffany Michelle Gibbs. I'm from Nashville, Tennessee, but I'm currently incarcerated at TWRC for Women in Henning, Tennessee, serving a 10-year sentence at 30%. Doing time like this make one a very lonely person. I'm looking for someone outside of these walls I can relate to and hopefully get to know on a more intimate level. Someone with the same interests as me.
I'm a very outgoing person and I love to laugh. In my spare time you can always find me listening to music. It is a big part of my life and no matter how I'm feeling, good or bad, happy or sad, I can always find that one song to relate to in that moment. I love artwork and poetry. I'm really big on being outdoors, especially at night when the stars are out.
Before my incarcerated, I was a professional dancer, which I did for most of my adult life, and in that time I learned that life is not about waiting for the storm to pass but instead learning to dance in the rain. With that said, life has taught me it is what you make it, so always try to make it fun. I love animals and would like to one day open up a safe place for neglected and abandoned animals, giving them a second chance at life.
If you find yourself interested and wanting to learn more, you could write me a letter to the facility or send an email. We have access through JPay.com. Download the app, add me as a contact, then send an email. In hopes of hearing from you soon, I will go. Have an awesome day.
You can write to me at:
Tiffany Gibbs
573586 11-A-46
480 Green Chapel Road
Henning, TN 38041