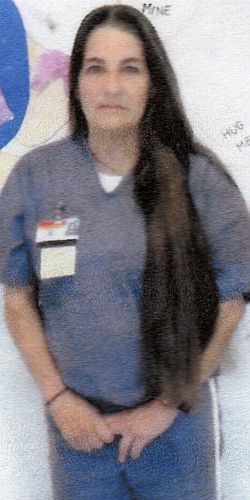 Return to Previous Page
Vital Statistics
| | |
| --- | --- |
| Age: | 59 |
| Hair: | Brown |
| Eyes: | Blue/yellow |
| Height: | 5'3" |
| Weight: | 133 |
| Marital Status: | Divorced |
| # of children: | 1 boy |
| Race: | White |
How are you? My name is Teresa. I am a youthful 59-year-old. Unfortunately, for the moment, I'm incarcerated for pill addiction. However, I've used my time productively. I've earned many state certificates, and completed an outside correspondence course in drug/alcohol counseling. My goal is to be released, and to own my own intervention facility. I'd like to prevent people with addictions from coming to such a horrific place, and for them to put their positive energy into something more meaningful. For now, I teach wellness. My classes consist of aerobics, Zumba, and circuit training. I did this in the free world for 21 years, along with owning my own gymnastics gym. I then did medical billing for Dr. A for the last 13 years of my freedom. I'll have it all again one day.

I love people. I love to entertain, cook, and keep a beautiful house and yard. I love to swim, ski, fish and I breathe and live horseback riding. I love animals in general.
What I love in a person is for them to be themselves. Authentic, and genuine. To be articulate helps along with being humorous. I enjoy real honest people with a great deal of integrity. If by chance I just described you, what are you waiting for? Let's get this adventure started! Looking forward to your letter.
You can write to me at:
Teresa Costa
#W32252 U2114 Lower
LCI
11120 NW Gainesville Road
Ocala, FL 34482-1479