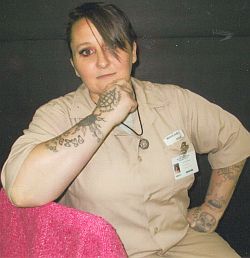 Return to Previous Page
Hey! I'm looking for friendships that can last beyond these prison gates. I have no preference on gender. I'm open to anyone. I've done a lot of time over the years and more than anything I just want to have my shot at a normal life, even though I'm far from normal.

I'm very open minded. My favorite topics to discuss are controversy topics. I love music. I listen to a bit of everything. One of my favorite things to do is put in my headphones, take a walk and escape into the music. If you want to know more, write me at the address below. I receive emails once a week. If you want me to call, let me know. Or you can contact me the quickest at gettingout.com.
You can write to me at:
Laura Neville
3535389 J-18-B
11264 Ohio River Road
Lakin C.C.
West Columbia, WV 25287