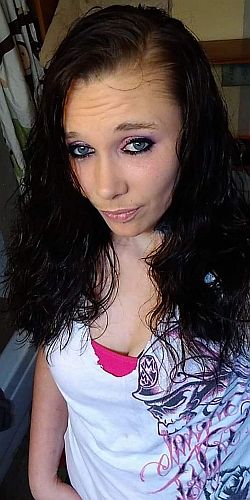 Return to Previous Page
Vital Statistics
| | |
| --- | --- |
| Age: | 28 |
| Hair: | Brown |
| Eyes: | Blue |
| Height: | 5'9" |
| Weight: | 140 |
| Marital Status: | Single |
| Kids: | 5 |
| Outdate: | 5-23 |
| Race: | White |
We received the following information from someone who has been writing to Emily: "I believe someone is placing multiple ads for this inmate. The weight is different by 50 lbs. in one of the others. She is listed as only 140 on Paper Dolls. The photos in both ads are pre prison, but older, showing someone quite thin. The emails from JPay appear to be written by another very controlling inmate, not her at all. There was no justification for the anger in some of the emails, but clearly that is not even her responding. Typically some inmates do try to extort money. The inmate says her tablet was broken, JPay lists it as functional and she was sending out other angry emails at 4 am their time. No Kiosk access is possible then.
The entire biography is misleading or false. She had 4 kids removed by the state and the last is being hidden from them. She is completely oblivious to the interests listed. All her convictions are for drug possession including DUI and leaving the scene. The father of the 5 children is a married man that was present in the car accident. There seems to be no shortage of deception and violence with this person and her entire family is involved it seems. I have asked her, who is actually behind the strange and different emails... no answer."
We recommend caution if you choose to write to Emily. If you have any questions, contact the administration where Emily currently resides.
My name is Emily Reckard. I have 5 children, 4 boys and 1 girl. I am the youngest, and by far the rowdiest, of 3. I have 1 older brother and 1 older sister. I grew up in a tiny town in Idaho called Winchester. In my younger days I enjoyed horseback riding, 4 wheeling, hiking, and spending time with my family. I enjoy hiking and horn hunting with my dog in the mountains. As I got older, I quit doing those things and I found new unhealthy interests. Granted, they weren't always the best of decisions, but they helped make me the woman I am today and give me the drive to continue to better myself.
You can write to me at:
Emily Reckard 131086
SICI
P.O. Box 8509
Boise, ID 83707