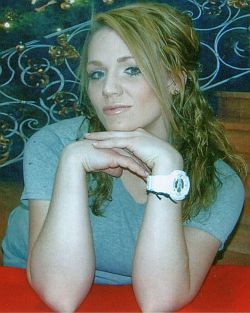 Return to Previous Page
Vital Statistics
| | |
| --- | --- |
| Age: | 31 |
| Hair: | Blonde |
| Eyes: | Blue |
| Height: | 5'7" |
| Weight: | 156 |
| Marital Status: | Single |
| # of children: | 0 |
| Race: | White |
Hi, my name is Desera Allen. I'm 31 years old and I'm from Johnson City, TN. I'm a true southern girl whose attitude towards life is enthusiastic and positively radiates happiness and energy. My "mysteriousness" must be penetrated byu anyone who wishes to become truly close. What I'm looking for is someone who likes to talk yet equally listens; a companion who shares in my sense of humor. I love to make people laugh and see a smiling face. I prefer someone who is intellectually stimulating. If you're hard to figure out (LOL) this especially piques my interest.
Some of my interests include: music (all genres, especially country), sunshine, the outdoors, enjoying the seasons and each of their festivities. Health and fitness, travel, dancing - in the club or even underneath the stars, open air concerts, sports, swimming, and animals.
When I'm finished here I would like to relocate and open up a new chapter. I just hitch my wagon to the merry-go-round of life and ride it with elegance. I have no children so I make myself completely open and available to whatever life has got coming. To me, life means moving forward into the future....
You can write to me at:
Desera Allen 47539074
Federal Prison Camp
P.O. Box 14525
Lexington, KY 40512-4525