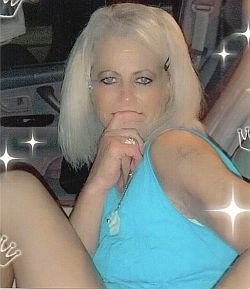 Return to Previous Page
Vital Statistics
| | |
| --- | --- |
| Age: | 53 |
| Hair: | Blonde |
| Eyes: | Blue |
| Height: | 5'5" |
| Weight: | 142 |
| Marital Status: | Single |
| # of children: | 1 |
| Projected Outdate: | 7-18-20 |
| Race: | White |
Looking for a blue-eyed goddess? Look no further.
My name is Carroll Crews, and aside from having the most captivating eyes imaginable, I also have silky blonde hair and snow white soft skin. I'm fun loving and adventurous, and always looking for the time of my life. Ever heard the saying, "I'm looking for Mr. Right"? Well, I'm enjoying Mr. Wrong until he comes along. I love long conversations and romance, but enjoy spending time with someone who likes living in the fast lane. So if you're up for a good time and looking for fun, I'm your girl! Sassy, classy, and a whole lot of fun!
I can also get emails here.
You can write to me at:
Carroll Crews
271631
480 Green Chapel Road
Henning, TN 38041