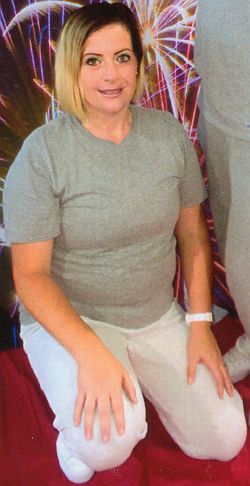 Return to Previous Page
Vital Statistics
| | |
| --- | --- |
| Age: | 38 |
| Hair: | Blonde |
| Eyes: | Hazel |
| Height: | 5'7" |
| Weight: | 160 |
| Marital Status: | Divorced |
| # of children: | 2 |
| Race: | White |
Hello. I'm very outgoing. I cuss a lot and laugh at things I shouldn't. I'm attracted to muscles, people with talent, and great conversation. Someone with stability in my life.
I'm a flirt by nature. I'm open minded in all areas of life. I'm bi. I'm a meat eater, steak, shrimp, and most seafood. Would love to travel the world. If you live once, I'm ready to live. Don't have many regrets, but have made many mistakes in life. I'm older and more focused now. I strive to have nice things and a better life. I have 2 grown kids who are the center of my universe. I'm a big kid at heart. I love adventures, riding street bikes, playing pool, darts, and bowling.
I'm usually an asset, hate feeling like a liability. I don't like the word "No". Looking for someone to clown with. And if I met someone who piques my curiosity, maybe more. I have a southern drawl. I'm rachet for a country girl. Time is your most valuable asset so I won't waste your time. I love funny people, bald heads, stilettos, and red lipstick, and some fish nets. I'm a dog person, Yorkies and Pits. Giraffe and elephants are my fave animals, red is my fave color.
I don't write inmates or people who are still out the streets. I switch hair color and styles a lot. I want to visit Vegas, Cali, and all islands.
I'm looking for people who have their life together and are full of ambition. Those who have a strong sense of belonging and have the courage to be imperfect. The broken don't need to be put back together, they need to be loved for all their pieces.
You can text me at 682-500-7061 or contact me through email or for video visits through Corrlinks.
You can write to me at:
April West
21335-074 2-North
P.O. Box 27137
Fort Worth, TX 76127