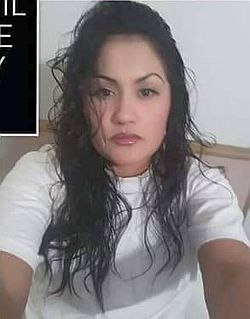 Return to Previous Page
Vital Statistics
| | |
| --- | --- |
| Age: | 37 |
| Hair: | Black |
| Eyes: | Brown |
| Height: | 4'11" |
| Weight: | 120 |
| Outdate: | 4-24 |
| Race: | Hispanic |
Angelina sent us funds through Paypal, and we applied those funds as she requested in her email (which we still have in our account). Later she stated to Paypal that the funds were to be applied differently and had Paypal refund her after the services were provided, but she never contacted us about this. At this time we do not know for sure which of the women is actually the person in the photo. We advise that you beware of Angelina defrauding you if she changes her mind about what she actually says and then later decides differently.
I'm a feisty, fun-sized go-getter. I work hard to get what I want, and I don't let anything (or anyone) stop me from getting it. I've made some wrong turns in the past, but I'm ready to change my life around. I'm a spiritual woman. I believe in prayer and the power of it. I believe that God can do miracles.
When I am released, I plan to go back to school, maybe for bartending or cosmetology. I'm flirtatious, sarcastic, blunt, loyal, 100% honest. I don't like liars and I hate people who play games. I keep it real, so I expect you to do the same. Whatever happens in the dark, eventually comes to light. I take care of those who ride with me.
I believe that you shouldn't dwell on the past. Accept it and keep moving forward. I believe whatever you put out into the universe will come back 10x stronger. So, I always try to stay positive. Hope you're ready. I'm always on the go and I'm really good at multitasking. Most can't keep up. But if you think you can, let's find out. Shoot me an email, it's easier and so much faster than having to wait for a letter. You know you want to. I can be emailed through GTL's GettingOut App. Just download the app, create an account, and add me (Angelina Hernandez #WF8394 @ Central California Women's Facility). I'll be anxiously waiting for your email.
You can write to me at:
Angelina Hernandez WF8394
P.O. Box 1508
C.C.W.F.
Chowchilla, CA 93610-1508